Climbing and mountaineering in Zillertal
Zillertal in Tyrol has long been a popular with fans of mountaineering and rock climbing. No wonder, since these sports are amongst the oldest ones in the region. And that's why you find some of the best climbing areas anywhere in Europe here in Zillertal. Beginners, too, perhaps who want to begin with some bouldering or basic mountaineering skills, are well taken care of in Zillertal as well, with a wide selection of rock climbing tours as well as practice climbing areas for all skill levels to choose from. Whether an extreme athlete or an amateur mountaineer, in Zillertal you can look forward to an exciting outdoors vacation, accompanied by one-of-a-kind alpine scenery.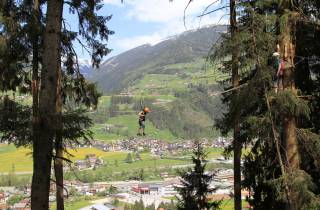 Climbing holiday in Zillertal – the perfect starting point
The family-run Hotel Wöscherhof is the ideal starting point for all climbing and bouldering enthusiasts to comfortably reach one of the many climbing areas in the Zillertal. We inform you about everything you need to know about climbing and bouldering in the Zillertal – including special insider tips.
Outdoor adventures for big and small
Holidaymakers and sports fans have a touch choice to make here in Zillertal, as there is so much on offer: For example, you can choose from nine via ferrata climbs, five practice rock climbing areas, an indoor climbing centre, bouldering hall and outdoor climbing tower. The last of these, incidentally, is part of a climbing and bouldering Eldorado known as "The Eternal Hunting Grounds" in Ginzling. Inexperienced climbers would be well advised to head for the "Kletterpark für jedermann", where they will be able to try their hand at this sport for the first time and get some training from experienced coaches.
Via ferrata for kids and a high rope course
Especially when it comes to climbing opportunities for families to do in the open countryside, Zillertal boasts all kinds of great opportunities. For example, the "Spieljoch Via Ferrata for Kids" in Fügen offers climbing lessons especially for children, but for adults, too. "1. Naturerlebnis-Hochseilgarten Zauberwinkl" in Wildschönau has also long since made a name for itself with nature lovers: This rope course is high up in the air, right below the treetops at around 17-21 metres above the ground, and awaits you with 31 challenge stations and three levels of difficulty. The region is also home to many other adventure climbing centres, all of which are easy to reach by car.
Challenging via ferratas for experienced climbers
It goes without saying that Zillertal also has all kinds of really tough via ferrata climbs in store as well, most of which are recommended primarily for adults with an advanced level. Since 2013, the Zell-Gerlos Region in the Zillertal Arena has been home to the "Riederklamm" via ferrata, consisting of three different routes: "Riederklamm", "Weiße Wand" and "Wasserfall". Tougher still is the "Gerlossteinwand" via ferrata, which challenges you with a 380m climb. In Mayrhofen, the "Zimmereben" via ferrata invites very good climbers to set out on a genuine adventure. It features vertical sections and overhangs, including right at the start. Family-friendlier options include the "Huterlaner", the "Pfeilspitzwand", and the "Knorren-Penken" via ferrata in Mayrhofen – all three are suitable both for beginners and experienced climbers. A true challenge for pros, on the other hand, is the "Nasenwand" via ferrata in Ginzling nature park.
Indoor climbing with some real challenges
If the weather ever happens not to cooperate, there are also indoor climbing centres. When it comes to challenges and excitement, these indoor climbing areas are every bit as fun as the outdoor climbing towers and other practice climbing areas: At "Kletterzentrum Zillertal" in Aschau, you can look forward to a climbing area of around 800 square metres, of which 165 square metres are for bouldering. Visitors can choose from some 100 different routes. Also offered there are sampler classes for adults and kids, but also advanced training for experienced climbers wanting to practice various securing methods as well as climbing and falling techniques. If the climbing centre in Aschau is a little too adventurous for you, you should probably make your way to the next village, Mayrhofen, and stop by "Shettla´s Boulderhalle". Here you will find a 129 square metre bouldering area up to a height of about 3.5 metres - ideal conditions, in other words, for beginners.