Mountainbiking in Zillertal
Challenging tours or leisurely bike rides: With its 800 kilometres of cycle paths and mountain bike trails, Zillertal is an authentic paradise for biking lovers. The extensive network of trails and paths reaches as high as 2400 metres above sea level. And when you have finally made it to the top of the hill, your efforts will be more than amply rewarded with absolutely breath-taking views out across the Zillertal Alps and the main Tuxer divide. And the ideal base for all of your tours is undoubtedly our Hotel Wöscherhof. We will be glad to help you with the planning, and we have an endless supply of great recommendations.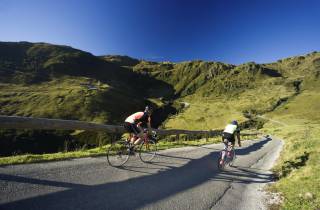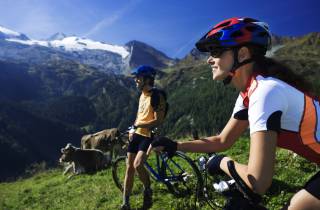 Cycling with the family
If you are travelling with your family, the Zillertal bicycle trail is the ideal route at the bottom of the valley. The route from Strass to Mayerhofen is 31 kilometres - leisurely and almost always flat. The wide, well-developed path leads along the Ziller through Strass, Uderns, Ried, Kaltenbach, Aschau, Zell am Ziller to Mayrhofen. If you don't have the strength, you can board the Zillertalbahn between Strass and Mayrhofen at any time. You shouldn't miss a ride with the steam locomotive anyway.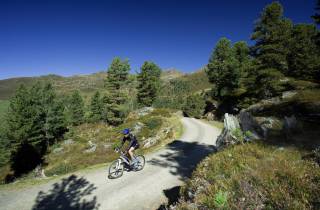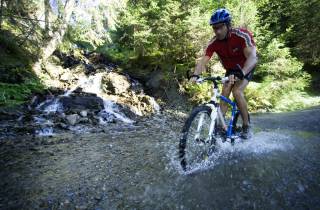 Demanding tours with pleasure
Around Uderns, Kaltenbach and Fügen there are plenty of possibilities for varied mountain bike tours. We will be happy to tell you which ones you can start directly from your hotel and provide you with all the information you need about routes and places to stop. But the whole Zillertal is open for your favourite sport, so you only drive a few minutes by car. The Penken Tour, for example, which starts in Mayrhofen, is a popular tour for experienced bikers with good physical condition. The route climbs up to the Penkenjoch, the highest point of the route at 2,129 metres above sea level, via paths that are easy to negotiate. There you have a breathtaking view of majestic peaks and glaciers. Afterwards it goes over a steep gravel way down into the Horbergtal and over Hippach again back to Mayrhofen. The route is 46.30 kilometres long and takes about three and a half hours.
Single trails for free ride biking fun
Also free riders find all kinds of sporting challenges in Zillertal. One example is the Wiesenalm single trail in Zillertal Arena which is a really cool attraction for hobby freeriders and pros alike. The route comprises 5.2 kilometres and serves up switchbacks, pumps and North Shore elements. You drop 700 vertical metres from the mid-station of the Rosenalmbahn lift down to the valley terminal. Two additional trails are located on the Penken above Mayrhofen. Resonant names such as "heaven's ride" and "hell ride" leave you with no doubt that there are ample opportunities to put your skills to the test.
Our recommendation: The Zillertal Aktivcard
With the Zillertal ActivCard, you can enjoy one round trip ride every day with the Zillertal's summer mountain lifts, and also take full advantage of most of the valley's public transportation system. We will be glad to provide you with additional details and information!