E-Biking in Zillertal
Healthy and comfortable
Nowhere is cycling as attractive as it is here in Zillertal, with our pure mountain air and picturesque nature. But this marvellous experience isn't just reserved for athletes on mountain bikes. Thanks to e-bikes, even families and older vacationers can pedal comfortably along without too much effort via an extensive, clearly marked network of paths and trails through our Alpine world.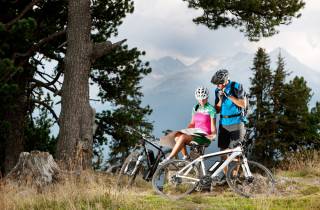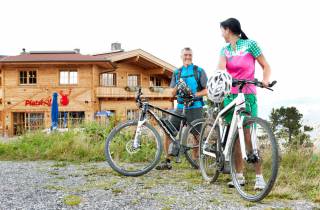 E-Biking – the new health trend
With an electric bicycle you explore the first holiday region Zillertal particularly comfortably and enjoy the beauties of the mountain world – the rustic alpine pastures, lush flower meadows and crystal clear brooks. Discover the modern way of cycling, which couldn't be more uncomplicated. Everywhere in Zillertal you will find rental and charging facilities. The e-bike is powered by a rechargeable battery, which can be replaced at various stations on the way, giving you unlimited mobility. Using the electronic bicycle is child's play and quick to learn. Try it out!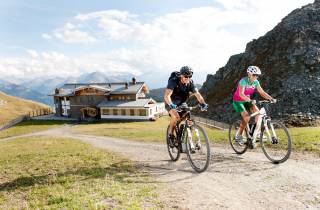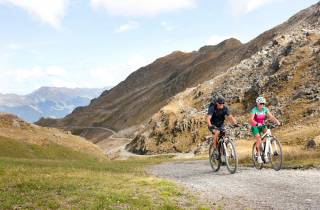 Largest e-bike trail network in the world
The First Holiday Region Zillertal is one of the 20 regions in Tyrol where innovative e-biking is booming. The route network here is so well developed that every e-biker can be sure that he will always reach his destination. Because the battery change places are located at popular excursion destinations, which are passed through anyway on the e-bike route. There you simply change the battery – and off you go! Whether you prefer a comfortable route on the valley floor with an e-bike or a demanding tour such as the "Kellerjochrunde" from Fügen – you can choose from the numerous cycle and e-bike routes in the First Holiday Region Zillertal according to your mood.
E-Biking in the 4-Star Superior Hotel Wöscherhof
If you would like to receive more detailed information about e-biking, we will be glad to help. In addition, we have a number of e-bikes available to rent. And if all of our own e-bikes happen to have been borrowed, we will recommend e-bike rental businesses close by. Stop by the reception and feel free to ask us for tips, addresses of area businesses, recharging stations and touring maps. We know the Zillertal like the backs of our hands and are always happy to share our local expertise.