Our Sun Terrace
After a beautiful hike or successful day on the golf course, sit down, lay back and allow your mind and soul to wander out on our sun terrace. First a cool drink enjoyed on your lounge chair followed by a refreshing jump into the water - what could possibly be more delightful? Just how holidays are meant to be!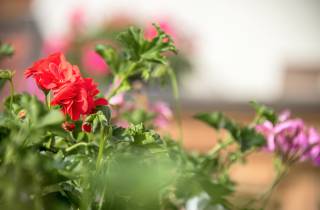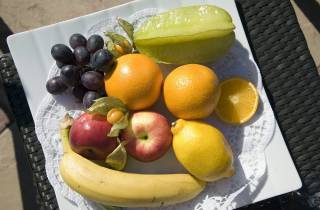 The Sounds of Zillertal
Unwind in our garden with views of the mountains, and enjoy the warm rays of sunshine as they caress your skin and soul. Why even contemplate heading for far-flung exotic climes, when you can get a perfect tan right here with us in sun-drenched Zillertal? The twittering of birds, the rustle of leaves and the buzzing of those always-busy bees, perhaps a cowbell jangling off in the distance somewhere - these are the sounds of Zillertal. Music to your ears? If so, we are the perfect place for you!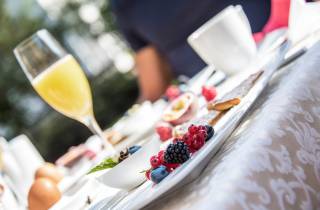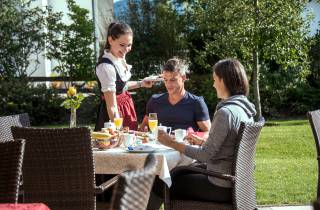 Unwind while taking in the fresh mountainous air and enjoy a treat
All the divine treats we serve in our afternoon buffet are also available outside on the sun terrace. If you would like to eat breakfast or even your evening dinner out on the terrace, we are happy to book a table for you. On those balmy summer nights, our guests like nothing more than to sit on the terrace by candlelight, sipping a fruity cocktail or a glass of good Austrian wine. It is impossible to imagine a more beautiful way to wind down a summer's day.